I found the book VERY beautiful and when I bought the ebook on Amazon and read the first few pages, which captivated me because of the way Colleen Hoover lay down her words, I said to myself, "Stop reading, buy the book and stare at the book cover for a long time". For a long time, I planned on buying the book because I want that beauty in my bookshelf, but damn girl, the book is price-y! Anyway, I never got myself to buying it and found myself at the last page of the ebook one day but I think I am still going to buy the book any time in the future when I do a Colleen Hoover Read-A-Thon.
* * *
* * *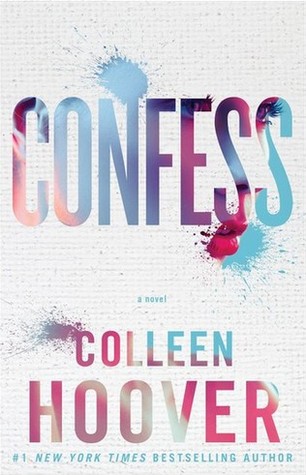 Title:
Confess
Author: Colleen Hoover
Published by: Atria Books on 10th March 2015
Genre: Contemporary Romance
Setting: Dallas, Texas (USA)
Format: Kindle, 320 pages
My Copy Source: Bought (Amazon)
Rating: 3 Roses
Auburn Reed has her entire life mapped out. Her goals are in sight and there's no room for mistakes. But when she walks into a Dallas art studio in search of a job, she doesn't expect to find a deep attraction to the enigmatic artist who works there, Owen Gentry.





For once, Auburn takes a risk and puts her heart in control, only to discover Owen is keeping major secrets from coming out. The magnitude of his past threatens to destroy everything important to Auburn, and the only way to get her life back on track is to cut Owen out of it.





The last thing Owen wants is to lose Auburn, but he can't seem to convince her that truth is sometimes as subjective as art. All he would have to do to save their relationship is confess. But in this case, the confession could be much more destructive than the actual sin…
* * *
* * *
I CONFESS that this is a freaking beautiful book, and I am talking only physically. I can't even describe how beautiful and artistic the book cover is. IT IS FREAKING LOVELY. To be honest... I mean, I am honest, because this is a confession, right? So, yeah, to be honest, I was drawn to this book because of the artistic sense embedded in it, especially in the beginning where there are pictures of Owen's paintings that are inspired by true people's confessions. TRUE PEOPLE'S CONFESSIONS! LIKE, THEY'RE REAL. AND THE PAINTINGS? SPELL BEAUTIFUL, DEARIES!
I CONFESS that I love the way Colleen Hoover writes. Her writing style is captivating in a way that you just want to read through and through but then I found myself a bit disappointed because despite the CoHo praises, this book lack depth. I guess I was really interested with the idea of the confessions itself but I just wasn't impressed with the way it turned out in the end.
I CONFESS that I was really curious about Owen. I love the mystery that surrounded this confession thingy and all that was unknown to Auburn and to us as well. I mean, no one wants to be kept in the dark, right? Us readers know that there's something Owen is hiding and we all want to know what that is! At first I even thought that Owen is AJ, the dead boyfriend of Auburn, but then again, it's a mystery until it unfolds on the last few chapters.
I CONFESS that I didn't really love Auburn as a character. Even though one can love a weak character, Auburn was a weak one that I dislike so much, she is just cringe worthy all the way.
I CONFESS that Owen is really loveable and sweet and Trey and his mother are plain evil. Ugh, stupid selfish people, rot in hell.
I CONFESS that I didn't love the ending even though I have come to the page where everything is unraveled. I wasn't actually surprised at all the revelations and I was not impressed with the connection of Owen with Auburn. I don't know why but it just seemed "meh" and I cringed again. Ugh.