I got these pictures from Pinterest. There are so many fanarts there that I can't decide what to put here but these flower ones are gorgeous. Credits to the owner of these. (I was the one who edited)
My review is a wee bit late because I have been so busy. This is an April read, but the review only finished today. HA, forgive me on that.
Verdict: MAXON MAXON MAXON *o*
Title: The Selection
Author: Kiera Cass
Published by: HarperTeen on 4th April 2012
Series: The Selection #1
Genre: Young Adult, Romance
Format: Paperback, 327 pages
My copy Source: Borrowed
For thirty-five girls, the Selection is the chance of a lifetime. The opportunity to escape the life laid out for them since birth. To be swept up in a world of glittering gowns and priceless jewels. To live in a palace and compete for the heart of gorgeous Prince Maxon.



But for America Singer, being Selected is a nightmare. It means turning her back on her secret love with Aspen, who is a caste below her. Leaving her home to enter a fierce competition for a crown she doesn't want. Living in a palace that is constantly threatened by violent rebel attacks.

Then America meets Prince Maxon. Gradually, she starts to question all the plans she's made for herself—and realizes that the life she's always dreamed of may not compare to a future she never imagined.
It pains me to think that it was no struggle to worm your way to the ending because, yes, the start screams the ending already. Even from the start, with Mer being a total "No no Maxon, Yes yes Aspen", you could still make out that her having no cares about the selection would catapult her into the Prince's heart. Like duh?! That's super cliché dude.
The thing about this first book is, despite the predictable things hanging around and despite knowing where everything will land, you just have to have to read the book because of the "kilig factor" (If you don't know kilig, it's the feeling you get when there's a romantic thing going on between cutiee couples). The kilig factor is what made this book come alive. The chemistry between the characters are undeniable and Maxon, even if his dialogue came off as gay-ish at first, still made it easy for you to fall in love with him. He's a real charmer and swoon worthy, and as I will tell you later, if it's not for him, I would have not read the second, let along the third one because I had a feeling that the book would just circle into indecisiveness and frustrations.
Aspen- 0 (Who's Aspen?! KIDDING!=)) )
What did I like about this book? Oh yes, the princess theme, the air of royalties around. I dreamed to be a princess you know, and one of the reasons this book drawn me in is because one of the 35 girls will be crowned princess and yes, yes, PRINCESS to Prince Maxon, is just EVERYTHING you could ever ask for. I coyld marry Maxon over and over for all its worth. Another thing is, it's so close to The Hunger Games, what with the caste system closing in on THG's districts, but without the bloodbath of course, and as you know THG is one of my all time favorite series. So YUP, thumbs up! (Also, when I watched Jimmy Kimmel's funny Baby Bachelorette, it reminded me so much of this series. LOL)
But well, as I have read in one of
Kiera Cass' interviews
, she never thought of it. I'm sorry Kiera that I thought they were kind of similar.
"Te first time that I watched 'The Bachelor' was actually after I wrote the book. I did watch a lot of Miss America pageants! The biggest comparison I can think of to 'The Hunger Games' is the idea of a lottery and the fact that it takes place in the future, but the series never crossed my mind. I've written a light, girly book; 'The Hunger Games' stories are far more epic and intense," she said.




Cass likewise reveals the characters that inspired her to pen the story:

"'The Selection' was born after thinking about Esther and Cinderella. Esther is from the Bible, and her story is that after the Queen offends the King, he decides to have a beauty pageant to replace her. Esther is one of the hundreds of girls scooped up to take the Queen's place. I always wondered about her heart. Before she was taken away, did she maybe like the boy next door? And Cinderella, well, she never asks for a prince, just a dress and a night off. So, when she gets the prince, is she happy? Did she get what she actually wanted?"
I actually gave this book a 3.5 rose rating because I like it but have a lot of issues with it, not one of my favorites but I will definitely recommend it to people who love royalties and girly stuff.
So anyway, if you don't know yet, the news was already out that The Selection will be turned into movie. I'm actually excited to see it on the big screen, because, of course, MAXON!
YA fans can celebrate today! Another YA series with a huge fandom is coming to the big screen!





Warner Bros. won the rights to Kiera Cass' "The Selection," the first in her five-novel series of the same name. (The last two books involve descendents of some of the lead characters, and there are other related companion novels.)





In "The Selection," 35 girls are chosen to compete for the heart of Prince Maxon. But when America Singer is selected, it isn't quite the dream she hoped for; she must turn her back on her secret love with a boy named Aspen and enter the fierce competition for the crown.





But there's more to Prince Maxon than she thought, and maybe the life she dreamed of can't compare to what the future has in store.





Denise DiNovi and Alison Greenspan of DiNovi Pictures' will produce alongside Pouya Shahbazian.



Deadline reports that Katie Lovejoy will be the writer to adapt "The Selection" to the big screen. She doesn't have a lot of experience — she's written an episode of "Dracula" and has two projects in development, a drama titled "Arsonist's Love Story" and a TV series titled "Critical" – but she seems super enthusiastic about the project, which is a big plus in my book.



I hope she works with Cass on getting the details right. Movie adaptations are always better, I think, when the author has a hand in them!
Title: The Elite
Author: Kiera Cass
Published by: HarperTeen on 23rd April 2013
Series: The Selection #2
Genre: Young Adult, Romance
Format: Paperback, 323 pages
My copy Source: Borrowed
The Selection began with thirty-five girls.

Now with the group narrowed down to the six Elite, the competition to win Prince Maxon's heart is fiercer than ever—and America is still struggling to decide where her heart truly lies. Is it with Maxon, who could make her life a fairy tale? Or with her first love, Aspen?





America is desperate for more time. But the rest of the Elite know exactly what they want—and America's chance to choose is about to slip away.
I did say that I did not love the first book but liked it on so many levels but this book? Well, it put me at the edge of my seat that I could have finished it in a span of 5 hours if it weren't for the school hours that gave me less time to squeeze in reading this one.
That said a lot about The Elite because the second half of it was intense compared to the first half which I have already forgotten right away because of the palpable intense scenes compared to the first half which is in fact too boring to be remembered.
So Aspen is actually cool in this book. HE ACTUALLY REAPPEARED! I thought for a while there that Aspen's dead =)) But then, Aspen, even if he can't give the whole world to America, he is willing to give his world to her. So one point for Aspen on this book!
The Selection actually made me fall in love with Maxon, who is 3/4 the reason why I pursued the next one but clearly, Maxon is such an ass in this book. Well, I couldn't blame him though because America is shitty in sorting out her feelings that I kind of abhorred her fickled mind. Oh, and so is Maxon's. Stupid royalties.
Anyway, I think I'm starting to hate the way characters were shaped. They were poorly constructed because they don't have strong aspects in them and just when you're about to see a flame forming from a spark, it just shies away and leave a smoke at its wake. It's depressing to think how one character could be this strong just to be put back down again stripped off of their fire. Yes, all the characters are frustrating.
Aside from that, some characters are just going along blindly and just, yes, yes, I'll wait, I understand, blah blah. Fuj, I'm talking about you Aspen! You are not fighting, you're just waiting for an opportunity for the ground to crack so you can catch Mer when she falls.
I hate how the characters are now forming (or deforming?) but despite those, this book became my favorite among the three because this is where everything about the country was slightly revealed and I am ever so curious of what it's about. This is where the series actually presented some real conflict, and I love that there's something that will pique one's interest in this series. SOOO, 4 roses, dear. I can't give it a 5 because, no it just can't have it.
Verdict: Uhhh? What the hell happened?
Title: The One
Author: Kiera Cass
Published by: HarperTeen on 6th May 2014
Series: The Selection #3
Genre: Young Adult, Romance
Format: Paperback, 323 pages
My copy Source: Borrowed
Of all the three books, I think this was the most bullcrap of all.
It was a push and pull for the first half and basically the second half is the desperation to finish the America and Maxon's story. It's not justifying, it's not memorable and it's not satisfying at all. This is the ending you'd mostly regret unfolding. Everything in the end is an easy way out.
WHY?! WHAT?!! UGH! I am most interested in the conflict of the government but then again that's it? That's all I'm going to get? HUH, damn.
CELESTE- Oh the bitch, I always knew there's something beneath the surface and to just get her killed in cold hands was just a foolish attempt at shocking the readers with a boom. It didn't help at all. It was nonsense and it was bullcrap all the same. What the hell is all the mess in the ending? Ughhhh
KING CLARKSON- Wait, I think Kiera just found the easy way to end the series by killing the most intriguing antagonist in the story. I think it just didn't do anyone justice by killing him because he could have put a little bit more spice on the ending if he was still alive and witnessing all the changes unfold before him and he can't do anything about it and just, no, you should have thought better.
QUEEN AMBERLY- What happened to her is the cruelest. She didn't even had the chance to spend closer time with her soon to be daughter. The author should have had her mingle with the elites more often so it would be okay to kill her if she wants to. At least she got the chance to have a daughter in the elite.
MAXON- Well, Maxon's like a typical immature teenage boy one moment and a total swoon worthy gentleman the next. Well, you are one unstable character but I like you.
ASPEN- Another poor attempt to make a love triangle is when the author introduced us to Aspen not even trying so hard to make us love him because he's just going to be dumped and missing for the 3/4 parts of the series.
Those characters above are just some of the people I remember that were just a waste of a supposed good character :( Yeah, poor side character building for most of the characters that was not Maxon and America. But even though those two were the most important, they have the most frustrating actions that made their characters unstable and they made me want to pull my hair out most of the time.
Well in the end, Maxon still wins. DUH!
3 roses for this book. I hope the next 2 books will do better with a new main character. The 4th book will come out on May 5th so you can check out the sneak peak below and my
The Heir's Dream Cast
.
All in all, the series are all light read, ideal for a summer read beside the pool. The series didn't become a favorite but it's still pretty cute and swoon worthy. :)
Here's a sneak peak on the 4th installment of The Selection Series by Kiera Cass. Another set of characters, and another person to fall in love with.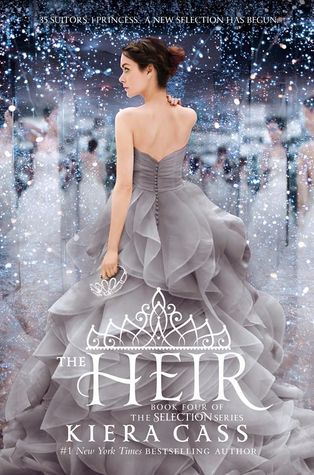 Princess Eadlyn has grown up hearing endless stories about how her mother and father met. Twenty years ago, America Singer entered the Selection and won the heart of Prince Maxon—and they lived happily ever after. Eadlyn has always found their fairy-tale story romantic, but she has no interest in trying to repeat it. If it were up to her, she'd put off marriage for as long as possible.




But a princess's life is never entirely her own, and Eadlyn can't escape her very own Selection—no matter how fervently she protests.




Eadlyn doesn't expect her story to end in romance. But as the competition begins, one entry may just capture Eadlyn's heart, showing her all the possibilities that lie in front of her . . . and proving that finding her own happily ever after isn't as impossible as she's always thought.